14-Year-Old Shocks Everyone With Her Voice, Has Quickest Chair Turn In The Voice Kids
Jade De Rijcke
is a 14-year-old girl who has taken over all the judges present at the audition in the previous season of
The Voice Kids
show in Belgium.
And exactly her audition is something special, since all the judges turned to her after about four seconds of performing.
Adorable 
Jade
was singing the song
"Homesick"
 by
Dua Lipa
in blind auditions, and she impressed everyone all over the world with this performance. As soon as she started singing, all the judges turned towards her, and let her know that she really has exceptional talent.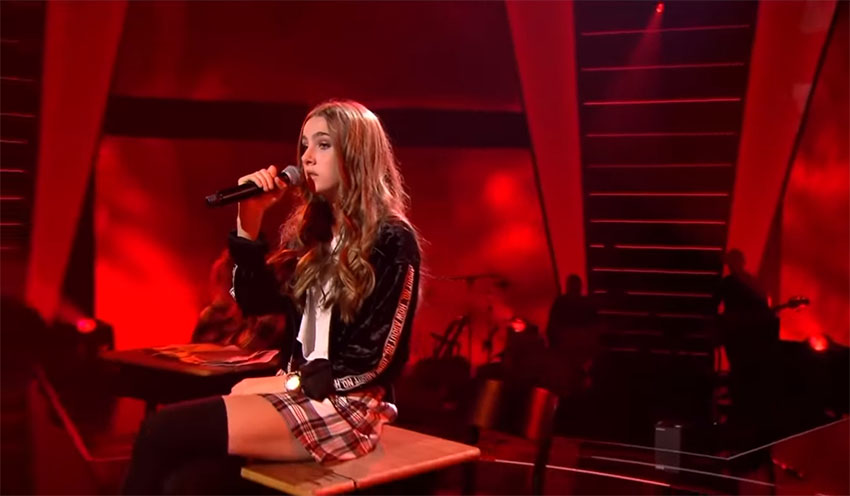 In the continuation of the Belgian singing show, she sang the song
"Better Now"
 by rapper
Post Malone
 in a battle with other competitors, and there
Jade
blazed out the competition. She was placed in the semifinals, where she once again shined with the song
"Sober"
, which is originally performed by singer
Demi Lovato
. With her singing talent, she came into the big finale, where she presented her talent with two performances.
First she took over the audience with the singing of
"F*ckin' Perfect"
by
Pink
, and then with the song
"Grand Piano"
, which is originally performed by
Nicki Minaj
.
After the final appearances,
Jade
was declared the winner of the fourth season of the
The Voice Kids
show in Belgium, and her singing performances undoubtedly deserve your view. Will a lovely 14-year-old
Jade
take over you with her angelic voice?