Huge Tornado Tears Through Romania, Rare Sight Is Taking Internet By Storm
In the south-eastern part of Romania, a huge tornado developed yesterday in the afternoon. In the Calarasi district of the Muntenia region, the mighty dusty tornado took many breaths with its image.
The weather phenomenon is at the same time a daunting fact that such phenomena will be witnessed in Europe as well.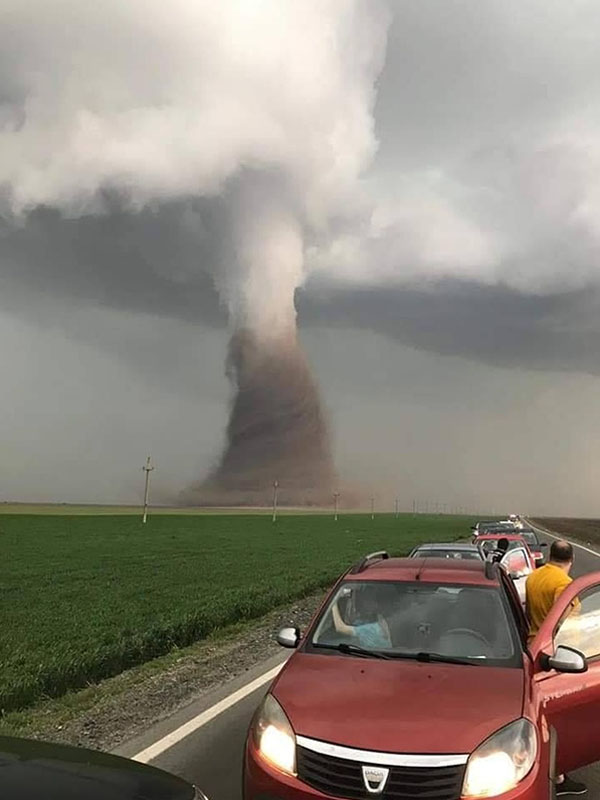 Tornado has formed 51 miles east of Bucharest, the capital of Romania. The local media report that at least ten houses in the Calarasi district have been destroyed on its path.
Due to strong winds, a bus with 40 passengers overturned on the road near the tornado. According to eyewitnesses, the bus was lifted into the air, then landed on its side 30 feets away.
Breathtaking scenes were also captured by many locals - in the recordings we can see a huge tornado, which has lifted the dust into the air, and with its mighty image, it has aroused fear and trembling of many residents Drajane town.
Weather meteorologist
Brian Lada
explained that the winds lifted dust and dirt from the field up in the air, gradually climbing higher and higher as the tornado continued to spin. Dust and dirt were the reason why the lower part of the tornado is darker than the upper half and clouds in the sky.
WATCH:
Dashcam Video Shows Us How Huge Tornado In Romania Formed
Take a look at the huge tornado that hit Romania yesterday. Are we going to see more and more such weather in Europe too?