Madonna Leaves Eurovision Fans Disappointed With $2 Million Worth Performance
Madonna
performed in the final of
Eurovision Song Contest 2019
in Tel Aviv last night, and her performance is regarded as the most expensive in history.
According to the latest data, she received $2 million for 9 minutes long performace, but Palestinian activists have already said before the performance that she should not perform there.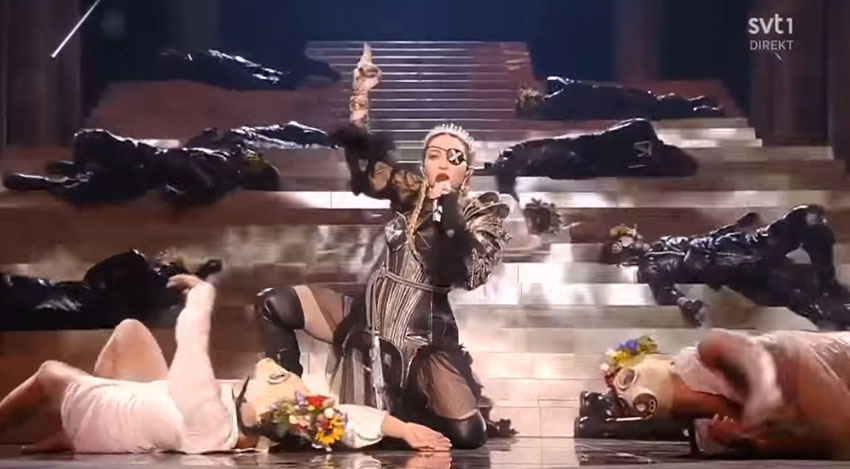 The 60-year-old
Madonna
signed the contract for two million dollars just a few hours before the
Eurovision Song Contest 2019
with
European Broadcasting Union (EBU).
She first sang the song
"Like a Prayer"
from her own album, which marks the 30th anniversary this year.
Many were disappointed over her performance - they are sure that her times are over, as the singing did not sound even a bit like the one we are used in her studio videos.
Madonna
also sang the song
"Madame X"
when "Wake Up" signs appeared on the big screens. At the end of the song
"Future"
, which was sung by
Madonna
together with the rapper
Quavo
, her two dancers walked hand in hand, dressed in costumes with the Israeli and Palestinian flags on their back, which was a call for unity between the states.
WATCH: The Netherlands Wins Eurovision 2019 With "Arcade" Song By Duncan Laurence
Listen to the 9 minute long performance of the 60-year
Madonna
, for which she received a glittering $2 million at
Eurovision Song Contest
in Israeli Tel Aviv!